Pottery Classes – All Levels
8 Weeks (3 hours each week)
This introductory program is for everyone 13 yrs and over, from beginners to advanced, with a desire to learn the art of pottery.
Creating forms by hand building and the potter's wheel will be instructed and demonstrated as well as techniques of glazing and brushwork. William also gives a short lesson each week on various subjects to help broaden the mind and encourage the spirit.
All who complete the program will receive a Members Card. Members qualify for Open Studio Time and Workshops.
Cost: $280 +HST
Materials and tools included (firings extra*)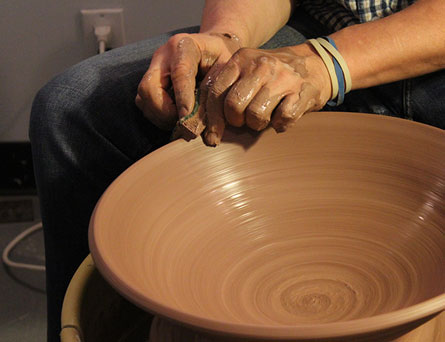 *Kiln firing usage:
We do not charge extra for clay and other materials however we believe it is more fair to everyone to charge extra for firings as electricity is a considerable cost to the studio.
The cost to fire the pottery and sculpture is determined by size, (height + width in inches) and converted into dollars.
For example, a bowl that is 2 inches high and 6 inches wide will cost $8 + HST to fire.
Pottery and Sculpture needs to be fired twice, a bisque firing and a glaze firing. The one time cost includes both firings to be paid before the bisque firing.
We do our best to ensure successful results, however firing pottery and sculpture is unpredictable and accidents can happen, therefore we cannot guarantee success.
Only clay used at the studio can be fired at the studio.