POTTERY CLASSES
adults 18+
BENEFITS OF LEARNING POTTERY 
 Learning the potters wheel helps to calm our minds.  Self discovery builds confidence.  Join a class to find friendship and build community. 
Try a 3 hour class!
adults 18+
LEARN – TRY – EXPERIENCE – SOMETHING FUN 
NO EXPERIENCE NECESSARY
Bring Yourself – Bring Friends – Bring Family
Complete 8 classes become a MEMBER!
Independent Hand-Building Time
For those who are not interested in the Pottery Wheel and have experience with clay, you can work independently on a specific project for 3 hours in a creative studio environment. 
Just bring your ideas, inspirations, and create with your heart.
Leave your stresses and distractions behind. Disconnect for 3 hours and you won't know where the time went. Great escape and getaway from everyday life.
Book online as frequent as you like. It's Your Time with Clay.  
Cost: $50 +HST  (non-refundable and no 'make-ups' for missed classes)
Materials and tools included (firings extra*)
*KILN FIRING COST:
$1 per inch
Price includes two firings and glaze materials.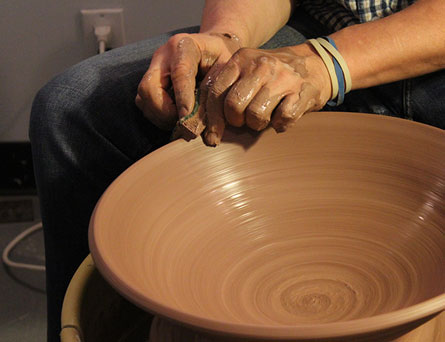 Frequently Asked Questions.
Q.   What can I expect to make in one class?
A.   You will make a pinch pot and some bowls on the wheel.
Q.   Can I take them home?
A.   No, they need to dry for about one week and fired in a kiln. You will need to book another class to apply a glaze coating, then it can be fired again and ready in another week.
Q.   Is there anything I need to do to prepare for a class?
A.   Yes, wear clothing that you don't mind getting clay on, take your rings off and clip your finger nails short.
Q.   Do you do events?
A.    No, Please book 'One Time Classes' for groups. Check availability.
Q.   Can I pay direct at studio?
A.   Yes, but it's better to pay online as it is first come, first serve.  Saturdays book up quickly.
Q.   Do you have children classes?
A.   No, our studio is for adults only, sorry.