Members will have access to future workshops that will cover various aspects of the art of pottery and sculpture, including:
Wheel for beginners, under 2 pounds of clay.
Wheel for intermediate, improving techniques.
Wheel for advanced, teapots.
Wheel for advanced, altered forms.
Sculpture, abstract forms
Sculpture, animal forms.
Sculpture, the human form.
Sculpture, portrait head.
Handbuilding, slab construction.
Handbuilding, water fountains.
Handbuilding, lamps.
Decoration, engobes and brushwork.
Decoration, carving.
NOTE: Cost depends on the length of Workshop. Materials and tools included (firing extra).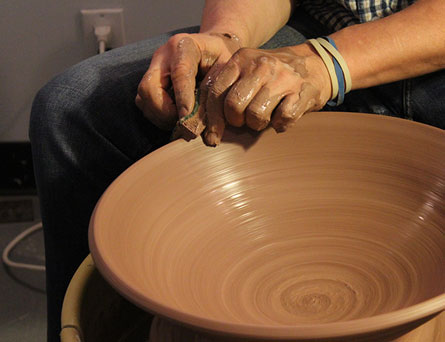 *Kiln firing usage:
We do not charge extra for clay and other materials however we believe it is more fair to everyone to charge extra for firings as electricity is a considerable cost to the studio.
The cost to fire the pottery and sculpture is determined by size, (height + width in inches) and converted into dollars.
For example, a bowl that is 2 inches high and 6 inches wide will cost $8 + HST to fire.
Pottery and Sculpture needs to be fired twice, a bisque firing and a glaze firing. The one time cost includes both firings to be paid before the bisque firing.
We do our best to ensure successful results, however firing pottery and sculpture is unpredictable and accidents can happen, therefore we cannot guarantee success.
Only clay used at the studio can be fired at the studio.