Teens  15 – 18 years (For the serious artist in you!)
The Art of Ceramics
(serious artists with serious parents)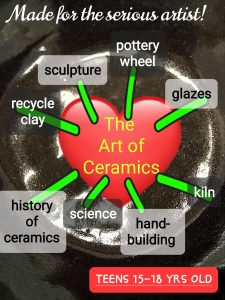 EXCITING News!  We now offer The Art of Ceramics for serious artists age 15-18 years old!
The commitment level is 4 weeks of attendance on Saturdays 9-11:30am.  $300 plus Hst.  All-Inclusive, no extra charge for clay, tools, glazes, firing, etc. 
Full use of our studio in a maker's environment with an instructor who's had 45+ years of Ceramic Arts experience & education!  A creative space with lots of room to grow as an ARTIST. 
Independence, self-motivation, exploration, experimentation, focus & patience are key to each artist's success.      
As we only have a 5-student maximum, interested teens will be asked to provide 5 images of their artwork and write 50 to 75 words telling us why they're interested in Ceramics.  
We care about youths & we care about parents who are committed to their teen's progress & success as an artist.
Please email us if interested:  info@mwartists.ca
With ART in our heart,
MW ARTISTS