Teens  15 – 18 years (For the serious artist in you!)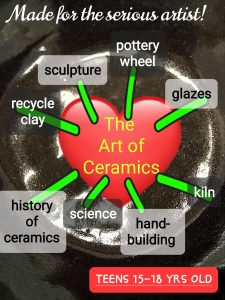 EXCITING News to share!  Parents of teens have been calling and inquiring about classes for months.  We've been listening and we now offer The Art of Ceramics for serious artists age 15-18 years old working on their Art Portfolio.
The commitment level is 4 weeks of attendance on Saturdays 9-11:30am.  $300 plus Hst.  All-Inclusive, no extra charge for clay, tools, glazes, firing, etc.  Full use of our studio in a maker's environment with an instructor who's had over 45 years of Ceramics Art experience & education.  A creative space with lots of room to grow as an Artist.  Independance, self-motivation, exploration, experimentation, focus and patience are key to each artist's success.      
Because we have a 5-student maximum, selected teens will be asked to provide a folder with their artwork and a short paragraph telling us why they are interested in Ceramics.  
We care about our youths & we support parents wanting to provide extra resources for the serious artist.
Please email if interested (info@mwartists.ca).
With art in our heart,
MW ARTISTS